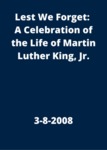 Title
Lest We Forget: A Celebration of the Life of Martin Luther King, Jr.
Files
Download LU-LestWeForgetPart2.m4v (373.3 MB)
Description
Lest We Forget was digitized from two non-descript DVDs in the holdings of Lincoln University's Page Library.
Description from catalog record:
Part 1, Lincoln Family comes together to celebrate the life of Martin Luther King Jr. : Part 2, A celebration of music and performances including the Lincoln dance troupe, performance on stage in honor of Dr. King. : Part 3, Black history is celebrated through song and dance.
Note: part three is not held in our collections as of 3/10/2020. It is unclear if part 3 was ever cataloged.
Publication Date
3-4-2008
Publisher
Page Library Media Center
Keywords
Martin Luther King Jr., Music Performance Lincoln University
Recommended Citation
Lincoln University, Jefferson City Missouri, "Lest We Forget: A Celebration of the Life of Martin Luther King, Jr." (2008). Digitized Videos. 2.
https://bluetigercommons.lincolnu.edu/videos/2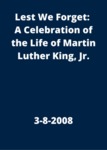 COinS