Preview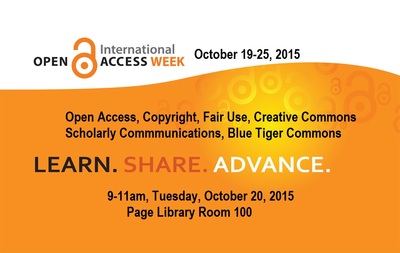 Description
"Open Access" to information – the free, immediate, online access to the results of scholarly research, and the right to use and re-use those results as you need – has transformed the way research and scientific inquiry are conducted.
The International Open Access Week, a global event now entering its eighth year, is an opportunity for the academic and research community to learn about the potential benefits of Open Access, to share what they've learned with colleagues, and to help inspire wider participation in helping to make Open Access a new norm in scholarship and research.
This year's celebration is in the week of October 19-25, 2015. The theme is "Open for Collaboration". Celebrate with Inman E. Page Library from 9-11am on October 20, 2015 as we learn more about Open Access Movement, Copyright and Fair Use, Open Access' Impact on Scholarly Communication and Humanities, and Blue Tiger Commons Repository.
For more information, please contact Haiying Qian, Academic Librarian, Institutional Repository Coordinator, at qianh@lincolnu.edu or call 573-681-5505.
Keywords
International Open Access Week
COinS