Featured Speaker: Dr. David Holley, Session: Do You Have To Be Religious To Find Meaning In Life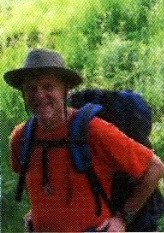 Dr. David Holley, Professor and Department Chair, Department of Philosophy and Religion, University of Southern Mississippi. Before moving to Sothern Miss., Holley taught at universities in Kansas, Texas, and Arizona. He has been a visiting Scholar at the University of Delaware and the University of Notre Dame. He was selected to be Grand Marshall-Distinguished Professor at USM for 2012.
His published works are mostly on topics in philosophy of religion, ethics, and moral psychology. His latest book, Meaning and Mystery: What It Means to Believe in God, was published by Wiley-Blackwell in 2010. In this book he explains why reflection on God's existence is best carried out in the context of deciding about what he calls a life-orienting story. His most recent article is called "Religious Disagreements and Epistemic Rationality". It is available now online and will appear in an issue of International Journal For Philosophy of Religion. His article "How Can A Believer Doubt That God Exists?" appeared in the October 2011 issue of The Philosophical Quarterly. He won the Excellence in Philosophy of Religion Prize for one of the best three published articles in philosophy of religion in 2010. The prize-winning article was "Treating God's Existence As An Explanatory Hypothesis," (October 2010 issue of American Philosophical Quarterly).
His wife, Joyce, teaches English at Petal Middle School. David and Joyce have been backpacking several times in the mountains of Colorado. In the summer of 2011 they took a trip to Yosemite and Sequoia/Kings canyon National Parks. One of the highlights of a 2012 trip that included hiking hear Asheville, North Carolina was zip-lining through the forest.
Conference Organizers:
Dr. Bruce Ballard, Professor of Philosophy, Lincoln University
Dr. Laurence Rohrer, Associate Professor of Philosophy, Lincoln University
Schedule
2013
Friday, October 18th
10:00 AM

Do You Have To Be Religious To Find Meaning In Life

David Holley, Southern Mississippi University


Inman E. Page Library, Room 317, Lincoln University

10:00 AM - 10:50 AM

11:00 AM

Chris Gadsden


Inman E. Page Library, Room 317, Lincoln University

11:00 AM - 11:50 AM

12:00 PM

Jeffrey Freelin, Lincoln University


Inman E. Page Library, Room 317, Lincoln University

12:00 PM - 12:50 PM