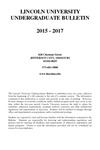 Description
The Lincoln University Undergraduate Bulletin contains the academic regulations and degree requirements of the University. A student may choose to satisfy the requirements for graduation from any one Bulletin issued in the eight years prior to the awarding of a bachelor's degree or the three years prior to the awarding of an associate degree, provided that he/she was enrolled during the school year for which that Bulletin was issued.
The Lincoln University Undergraduate Bulletin also serves as a guide to the academic programs of the University and is intended to assist students in the selection of their programs of study. However, due to changing economic conditions and student program needs, the University reserves the right to discontinue or change programs listed in the Lincoln University Undergraduate Bulletin and to cancel any class listed in a Schedule of Courses.
Should revisions of the information contained in this document occur, the information will be published online and distributed through the various offices of the University. This Bulletin reflects University policy as of August 2015.
Publisher
Lincoln University of Missouri
Keywords
Lincoln University of Missouri, Bulliten, Course catalog, Undergraduate
Recommended Citation
Lincoln University, Jefferson City Missouri, "Lincoln University Undergraduate Bulletin 2015-2017" (2015). Bulletins and Catalogs. 8.
https://bluetigercommons.lincolnu.edu/bulletins-catalogs/8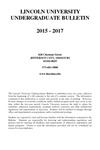 COinS