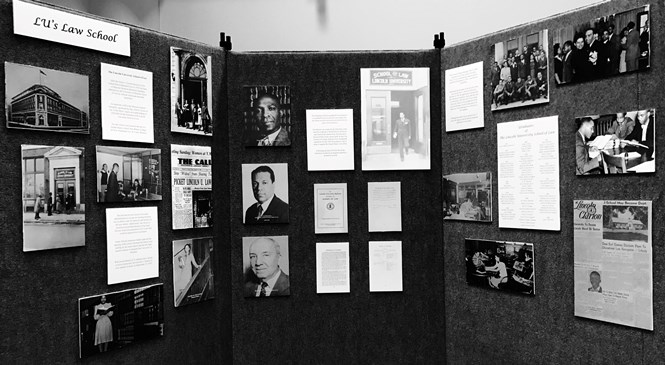 Section 5: The Lincoln University School of Law After the Gaines v Canada decision by the United States Supreme Court in 1938, the State of Missouri faced an ultimatum regarding admission to the University Of Missouri School Of Law by African-Americans and other minorities. As expected, a bill in the Missouri General Assembly, sponsored by Rep. John D. Taylor of the "Little Dixie" region, provided funding of $265,000 for the formation of the Lincoln University School of Law. Although the school was in existence for 17 years, the impact it had on African-American education lives on today.
Printing is not supported at the primary Gallery Thumbnail page. Please first navigate to a specific Image before printing.
5.01 Lincoln University Law School located at the site of a former Poro Beauty College

The LU law school was located at the site of a former beauty school, Poro Beauty College, 4310 St. Ferdinand Ave. St. Louis, Missouri. The decision by the Lincoln University administration to occupy an existing structure was to defray costs for materials and faculty for the new school. Additionally, the choice of location was justified because of the large African-American population in St. Louis that would be targeted for recruitment.

5.06 Lincoln University Law School Student Margaret Bush

First year law student Margaret Bush standing on the stairs outside of Lincoln University Law Library. Margaret Bush was in the second class of the LU Law School. She later became the second African-American woman admitted to practice in Missouri.